Description
Shop High-Quality U.S Remanufactured Ink and Toner Compatible with Your Printer
DoorStepInk only provides high-quality American Made remanufactured printer ink and toner supplies as replacements for costly original brand name ink cartridges, which help you save money and protect the environment. Explore and shop DoorStepInk Printer ink and toner for HP, Canon, Epson, Brother, Dell, Xerox, Lexmark, and More!
Have a business? We got your back; we know that office
toner and printer inks can be expensive, save bigger when you shop in bulk printer toners and inks online here at DoorStepInk.com and enjoy volume discounting for wholesale Printer Cartridge Quantities.
Wondering How to Save On Your Printing Cost?
One easy way is to buy generic remanufactured ink and toner cartridge, which help you to save up to 70% compared to original (OEM) branded Cartridges!
Why Generic Remanufactured Inks and Toners are Cheaper?
Since generic aftermarket remanufactured ink and toners use spent original cartridges cores and most internal parts, it reduces the cost to produce a finished product. This means lower prices and greater savings on ink and toner costs for customers!
Is Compatible and Remanufactured Cartridges the Same Thing?
No, compatible inks and toner are new, manufactured cartridges or clones of the OEM. Most compatible cartridges come from overseas, primarily from China. Made using lower-quality material to reduce cost, the cartridges cannot be remanufactured or recycled and often find their way into the trash or worst cause damage to your printer. Remanufactured Ink and toner are used original brand toner and inks that have been cleaned, rebuilt, refilled, and tested to meet original brand cartridge specifications.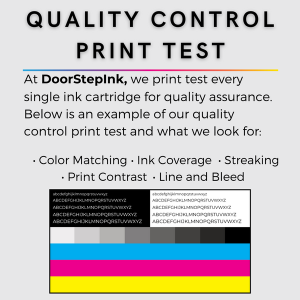 Should I Buy Compatible Toner and Ink?
The short answer is no! Compatible printer cartridges are new built cartridges that have been built from scratch mainly in China, using poor, low-quality materials. These cartridges cannot be recycled which is bad for the environment. Compatible cartridges may appear to be cheaper than OEMs and remanufactured cartridges, but they run a greater risk of damaging your printer and producing poorer print quality pages, and low page yields which cost consumers more money in the long run. Greater savings can be achieved when purchasing U.S. remanufactured ink and toner. Compatible printer toner and ink are plastic waste and pollution that is being generated by overseas manufacturers. When buying compatible printer cartridges, you are supporting primarily overseas companies at the expense of U.S. businesses. The United States was once the capital of the remanufacturing industry diverting millions of cartridges away from landfills and recycling them into a low-cost alternative products to the original OEM brands. Compatible toner and ink have disrupted this circular economy by dumping nonrecyclable cartridges into the
market. When buying compatible printer cartridges, you are adding plastic waste, burning more fossil fuels, and increasing greenhouse gasses to our environment.
DoorStepInk is the nations top supplier of surplus ink cartridges at the lowest prices available. Genuine OEM Ink, direct from the manufacturer, sealed and guaranteed with 100% satisfaction or your money back. Before you buy, online or in-store, check for your model and save. If you don't see your model, call us. We get thousands of ink cartridges daily and your product just might not be listed online yet.
Original OEM cartridges also available at low prices.
Save a lot of money, reduce plastic waste and help keep Americans working. Buy U.S. Remanufactured Ink Cartridges.
About
Having solid knowledge of the inner workings of every cartridge allows us to construct our QA & testing procedures to make certain our cartridges perform to the same specifications as the original equipment manufacturer brand. Testing includes lifetime performance, duration, color breadth, and page yields.
An industry leader of high-quality remanufactured inkjet cartridge products. Since the company's inception in 2000 quality has been and continues to be the focus of every single activity in the company.
Our professional management team, well-trained technicians, and dedicated staff are the cornerstone of our ongoing success for delivering top-quality products and superb service to customers across the Nation
Recycle empty inkjet and toner cartridges
Get free shipping label. It costs nothing, Just gather 4 or more empty ink cartridges and print a FREE shipping label. Send them in any box you have. There is no limit to how many you send in, the more credits you get.
Quality Guarantee
Certified, state-of-the-art, 35,000 square foot facility, located in Chatsworth, California, exemplifies stream-lined production, and remanufacturing excellence. We continue to customize our manufacturing techniques and production equipment to ensure our products meet the highest standards while delivering great value to our customers.
A long history of innovation. To produce the highest quality ink cartridges, we have taken control of our own technological destiny. Our in-house technology center researches, designs, and creates our own equipment, tools, and production systems.
Continuous advancement and improvement is the result of our vigorous research and development efforts. Process engineering, production planning, automation, new technological advancements, chemical analysis, advanced technical training are only a few areas of concentration and investment.
BEST Customer Service
"I have found the customer service department very helpful whenever I've had to call, which is rare. Collecting and mailing the cartridges is extremely easy and there is no cost whatsoever. We are happy that we receive money for recycling and also help the environment." –  Judy Blair, Family Services Incorporated
Shipping rates
Usually 3.99 for USPS. Free shipping for orders over $35