Description
For relief of pain in head, neck, ear, and shoulders if placed under the head, or may be used in other parts of the body for shoulder, back, hip, knee, ankle, etc. when sitting or laying.
This magnetic therapy pad offers you a natural treatment to help prevent and alleviate general pain and discomfort and improve wellbeing while you sleep. Simply place on top of your mattress, under your pillow or on your favorite chair and let the magnetic fields work their magic. Just place the magnetic therapy pad as close as possible to the areas that require treatment.
Get long lasting pain relief by treating the source of the pain, not just the symptoms. Our product utilizes the strongest ceramic magnets to penetrate deep below your skin and effectively treat sources of pain and discomfort.
Natural and Non-Invasive Pain Relief
For thousands of years, physicians have used magnets to treat a variety of ailments. Magnetic therapy has a long history of use to alleviate pain, reduce inflammation and improve blood circulation, leading to faster healing and improved health. It is also known to reduce stress & anxiety, improve sleep, and enhance overall energy levels.
Enjoy natural pain relief and get back to your best, quickly & naturally.
Contains 32 powerful permanent Magnets. Premium quality for superior results.
Place under your pillow for a deep restorative, rejuvenating sleep. You wake up more rested, re-energized and balanced.
Use on any area of the body for safe and effective natural magnet therapy.
Use as a seat or back pad in your favorite chair at home, at work or in your car.
Use as a pet pad to keep your special friend in good health and vitality.
Magnetic material: Anisotropic Ferrite, 4000 Gauss
Penetration: (the distance from the pad where an effect on a compass is detected) 20.5 inch (52cm)
Polarity: North (-) on patterned side (toward the body)
Note: Persons fitted with pacemakers, defibrillators, implanted insulin pumps or other electro-medical devices should keep magnetic products at least 18 inch (45 cm) from the device. Therefore persons fitted with such a device should not use this product while sleeping to prevent pad from coming in closer contact with the device. Although it is absolutely safe to use pad while working on the computer, do not place pad in direct contact with computer discs, audio/video tapes and credit cards to prevent loss of information .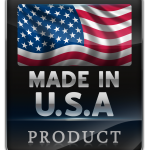 Proudly made in USA!
Instructions and care
Pad should be used with patterned side towards the body. Use pillow case or similar washable cover to protect pad from soiling. To keep clean, vacuum periodically.
To wash, use soft brush with mild soapy water. Air dry.
Important: Serenity2000 does not claim that these products are of medical items or that they provide any solutions or cure to any ailments. These products are most commonly used to promote the feeling of health & well-being and to provide comfort.  Please seek medical advice for professional medical solutions for any persistent aches and pains.
Materials
Size: 15″ x 19″ x .5″(38 cm x 48 cm).
Magnets: 32 – each magnet is 26mm (1″) diameter by 1mm thick
Magnetic Material: Grade 8 Ceramic
Manufacturer's Rating: 4000 Gauss
Surface Gauss: 1100 Gauss (each magnet)
Penetration: 20″ (50 cm)
Polarity: North (-)
Material: Foam center with Polyester cover
Origin: Made in USA
Brand: Serenity 2000
Directions
Place the Magnetic Therapy pad under your body wherever therapy is desired. May be used while sitting in a chair for your gluts or your back, may be placed on your bed under any area of your body with pain including feet, legs, knees, arm, shoulder, ribs, back, chest, abdomen, hands, neck, or head. It is some times placed inside the pillow sham for head and neck area.
Legal Disclaimer
Serenity2000 is not responsible for any customs and taxes applied to your order. All fees imposed during or after shipping are the responsibility of the customer (tariffs, taxes, etc.).
Statements regarding dietary supplements have not been evaluated by the FDA and are not intended to diagnose, treat, cure, or prevent any disease or health condition.
Polyester

32 MAGNETS: The strategically placed, sewn in magnets are aligned northward and allow for deep penetration and optimum magnetic therapy. Dimensions: 19 x 15 x 1 inches (48 x 38 x 2.5 cm). Manufacturer's rating of 4000 gauss, surface gauss of 1100 gauss for each magnet. Polarity: North-Negative (-)

HIGHLY VERSATILE – Use as back pad, seat pad, foot pad or under your head or neck at home or whilst travelling to promote circulation, prevent stiffness and relieve pain.

BETTER SLEEP – Place the pad under or inside your pillow or on top of your mattress to create a healing sleep environment. Wake up rejuvenated with increased energy levels.

FAST PAIN RELIEF – Magnetic Therapy is used for pain relief, to reduce inflammation and improve circulation. Place the quilted pad on any painful area for fast relief.

QUALITY CONSTRUCTION – High quality polyester is used for our pads to ensure they give you a lifetime of pain relief. Please use with the quilted side up on your skin. Contains extra padding and more luxurious materials for added comfort.
Product details
About Us
Established in 1991, Serenity 2000 is proud to be an industry leader in the development and manufacture of better quality, highly therapeutic magnetic products.
Our extensive experience and knowledge in magnetic wearable therapy field has enabled us to develop a superior product line. Each and every product in the Serenity 2000 product line has been designed to achieve the highest therapeutic benefits.
We use only superior quality and gauss strength magnetic materials that are appropriate for each of our products.
The number of magnets used in each product far exceeds the minimum necessary for effectiveness.
The magnets in our products are placed in the appropriate grid and/or configuration to create a deep penetrating magnetic field, essential for severe chronic conditions.
We fully disclose, in our catalog and our website, the type, strength, polarity and penetration of the magnets used in each of our products.
We guarantee that the magnets contained in our products will retain their magnetic strength for the lifetime of the user.
Serenity 2000 products are designed to be easy and comfortable to use. Our jewelry line is both aesthetically pleasing and highly effective.