Description
For going all the way to the Laundromat or just down the hall, this mesh laundry bag will get you there in comfort and style. Sturdy, washable mesh material lets clothing breathe and helps keep mildew at bay. The drawstring closure prevents spilling and doubles as a carrying strap making this laundry bag quick and easy to transport. Use alone, as a replacement bag for most hampers or sorters, or as a wash bag for larger items such as linens. These bags are often purchased by commercial laundry facilities, prisons, home use, and many other purposes. This bag size is great for 2-3 days worth of laundry and will hold approximately 25 pounds. The bag is the size of an average kitchen garbage bag liner.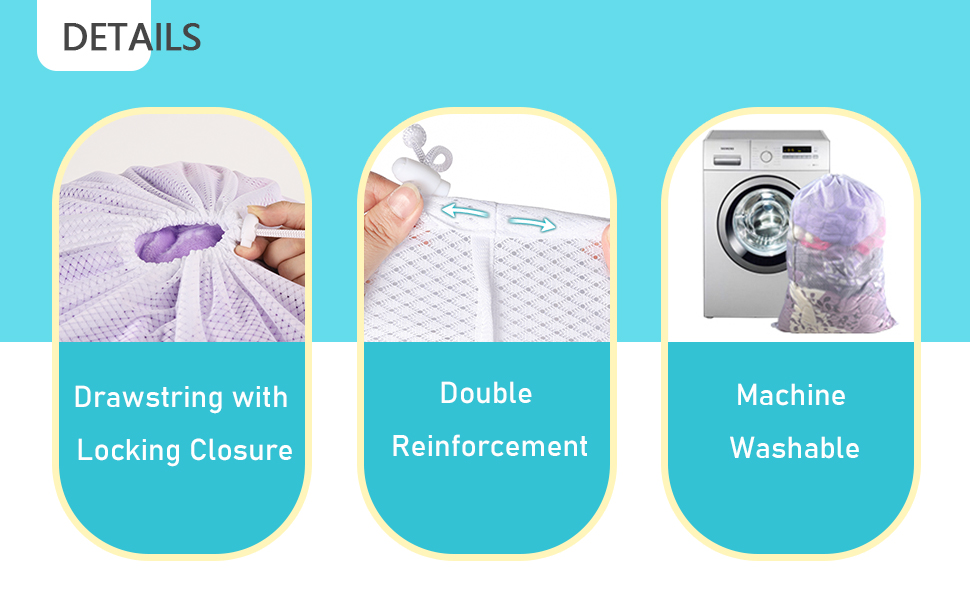 Perfect for college students living in dorms, apartment dwellers, sorting laundry at home, and carrying dirty clothes to the washer. These laundry bags can also be used as storage bags for blankets and toys, or keep one in the car to transport your sports gear. The Mesh Laundry Bag is made of breathable material and is machine-washable, so you can easily reuse it.
This laundry bag with a drawstring breathable mesh is great for holding your dirty laundry. The breathable mesh will keep your clothes fresher and less prone to mildew. This bag is sturdy and closes tightly with its locking, drawstring cord. Product Features: Premium textile material for long-lasting laundry fun Carrying drawstring prevents contents from spilling.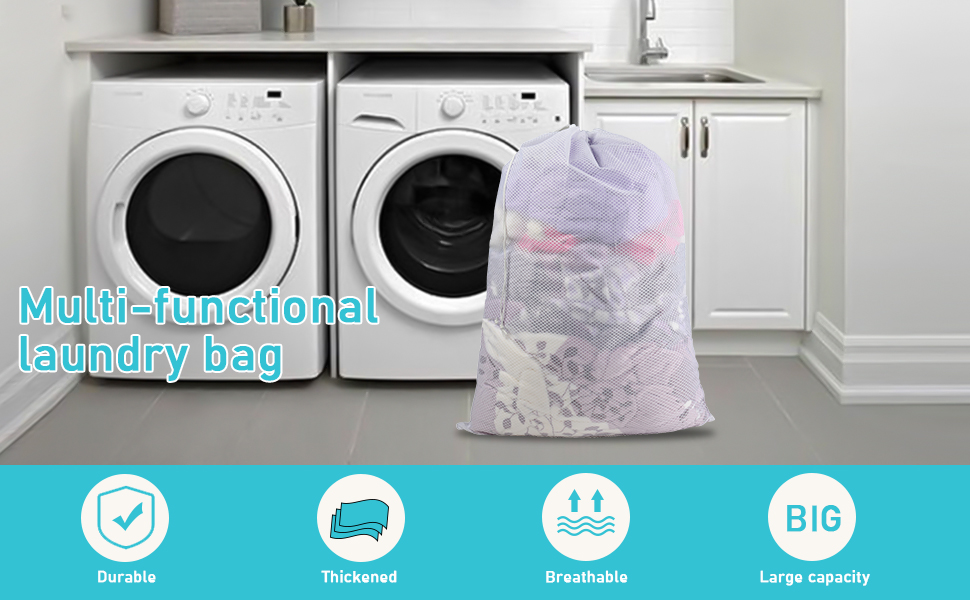 If you're looking for an easy way to sort your dirty laundry; or to transport it to the college dorm washer (or take it home to mom); or you live in an apartment and want to drop your laundry off at the laundromat, you have to get it there without losing anything. That's why this heavy-duty mesh laundry bag in white will work for you.
It's made of sturdy polyester mesh material and designed to hold a week's worth of soiled laundry. But because of the mesh construction, you don't have to worry that damp clothes will get moldy or that odor will build up. The design means that plenty of air continues to flow through the bag until you have time to do the washing. The sliding drawstring cord lock closure provides security that items won't spill out when it comes time to transport them. But these bags are roomy enough to use in a hamper or other sorting method.
The mesh laundry bag is also machine-washable, so you can reuse it over and over again. It's an ideal bag for dorm and apartment dwellers or anyone who prefers a bag to a laundry basket.
Features
Drawstring with cord lock keeps bag closed tightly
Large capacity, fits most hampers and sorters
Breathable mesh material
Washer and dryer safe
Easy grab strap with drawstring lock closure
Sturdy mesh laundry bag stores and transports your laundry with ease
Ideal for travel as the laundry bag has a drawstring to secure clothing
The mesh material allows what's inside to breathe and prevent odors
The laundry bag itself is made of a machine-washable polyester mesh material
An ideal mesh laundry bag for college students in dorms and apartment dwellers
Dimensions: 24 inches width x 36 inches height
Nylon Mesh Laundry bag measures 25″L by 36″ H
Includes integrated draw string with cord lock, prevents contents from spilling
Bright fun color allow for quick easy identification of hamper
Mesh material allows garments to breath, helping to reduce and prevent odor build-up
Large capacity laundry bag fits most hampers and sorters
This heavy-duty nylon mesh laundry bag is designed to hold a week's worth of laundry.
Drawstring closure mesh laundry bags provide security that items won't spill out.
It's made of sturdy polyester mesh material and comes in white.
The expandable mesh laundry bag measures a jumbo 24 inches by 36 inches.
Mesh material allows for items to breathe, which keeps dampness and odors away
Large Durable Fabric Mesh Laundry Bag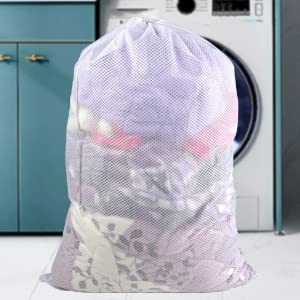 -Large Size
24″*36″/60*90 cm; 3-4 loads laundries
-Strong Fabric
extra thick breathable lead free mesh fabric
-Laundry Solutions
Perfect for dorms, apartment dwellers, and sorting laundry at home
-Laundry Bag/Laundry Liner
Breathable mesh for your dirty clothes. Suitable for laundry hampers or baskets(Circumference less than 48 inch/121 cm).
-Storage Bag
To storage your blankets, comforters, toys, etc.
-Travelling Organizer
Keep your dirty clothes breath, reduce odor when travelling or taking a long trip.
-Sports Equipment Bag
Perfect for carry and identity your sports gears, balls. Holds up to 12 balls.
-Beach Bag /Camping Bag
Water leaking mesh fabric is ideal for kids' toys, sand toys, beach gears etc.
About this item
DIAMOND SHAPE MESH FABRIC, STRENGTHENED BINDING
The mesh is different from others, it made of Lead Free Durable and Tear-resistant Breathable Polyester Mesh Material, much thicker, with a diamond shape and very small holes, Very Soft and Skin Friendly. There are 4-layer fabric sewed at binding part of the large laundry bag, double reinforcement to make sure it won't break after full loads or long-time use.
LARGE SIZE
The large laundry bag measures 24 by 36 inch, capacity 20 Gallon /75L, Load bearing can be up to over 50 pounds ,can hold 3 to 4 loads of laundry, Large enough to fit laundry hampers or baskets. Just pull out the laundry bag instead of carrying the whole hamper. The laundry wash bag is also large enough for washing blankets, bed sheets, ropes, tablecloth, bath towel, down coats etc. avoid swirl or snags.
DRAWSTRING CORD LOCK CLOSURE
The commercial mesh laundry bag also have a locking drawstring closure preventing spill of personal items. If you use them as wash bags, it is better to keep the toggle inside the bag to avoid the drawstring loosen in the washing machine.
UNIVERSALLY APPLICABLE & MULTIFUNCTIONAL
Perfect laundry bag for college students living in dorms, apartment dwellers, and sorting laundry at home. These laundry bags can also be used as storage bags for comforters, blankets and toys, or keep some in the car to transport your kids' sports gear. Travel laundry bag. Great gift idea for kids, Moms and Dads, Children's- Mother's – Father's Day and Christmas.
Care Instructions
Pack with close color. Machine wash in cold water, do not overstuff. Tumble dry with low heat. DO NOT IRON.