Description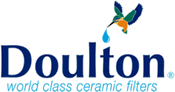 The Doulton HCPS is a free standing filter for countertop use which is easily installed onto the existing cold water or mixer faucet via a diverter valve. This filter system needs no permanent modifications to the kitchen plumbing, allowing filtered or unfiltered water to be drawn from the existing faucet at the press of a button. The Doulton W9331032 HCPS countertop ceramic filter system's compact size and superior performance make the perfect choice for apartments, boats, RV's, cottages and travel.
The UltraCarb Ceramic Filter Candle media is not included with this product. Use Doulton W9123053 UltraCarb 10 in. filter Candle with this product. It can be purchased at HomeDepot and at many other retailers.
Installation Instruction Video
Features:
Doulton W9331032 Ultra Carb is a highly efficient ceramic micro filter which provides genuine sub micron filtration of drinking water

Filter housing with 3/8″ Inlet and Outlet
Diverter Valve and Tubing for easy Installation
Faucet Tubing and Quick Connect Fittings for Installation

Doulton HCPS Countertop Water Filter System is free standing system for your kitchen counter, complete with diverter valve to connect to the faucet. 

Self-sterilizing silver locked within the ceramic structure inhibits bacteria growth
Removes Chlorine, Taste & Odor
Removes Bacteria, Cryptospordium & Giardia
Removes Lead
Specifications:
Absolute filtration efficiency to 0.9 microns
Particles from 0.5 to 0.8 microns filtration efficiency greater than 99.99%
Flow Rate 0.5 gallons per minute
Genuine OEM product
Made in Britain

The entire system is NSF 42 and 53 Tested and Certifie

ADA Compliant: Yes
Overall Height Top to Bottom: 12″
Overall Width Side to Side: 3.5″
Overall Depth Front to Back: 3.5″
Overall Product Weight: 3.1 lbs.
About Doulton
Doulton® is proud to have been a pioneer in providing families with access to clean drinking water since 1826. Using 100% natural materials, our ceramic water filters improve the look, odour and taste of tap water by filtering out 99.99% plus of contaminants, filtering out bacteria, cysts and particles while keeping in all of the healthy minerals.
Located in North Staffordshire, the heart of the UK's traditional pottery industry, Doulton® manufactures and distributes ceramic filtration solutions to 140 countries across the globe.
Our commitment to excellence in water filtration is built on years of innovation and maintaining the highest international standards to ensure the best quality products every time. Doulton® has received multiple industry certifications and actively promotes an eco-friendly ethos by making products that are derived from naturally-occurring raw materials.
The Doulton Story
Our water filters harness the power of ceramics – one of the oldest and most effective methods of water filtration.
It was in 1826, that Henry Doulton invented the concept of the contemporary ceramic candle water filter. He discovered that filtering water through porous ceramic would prevent people from falling ill due to cholera and other waterborne diseases.
Doulton® continues to build on his life work, having achieved numerous awards and international accreditations for sustained commitment to innovation, ensuring that the water you and your family drink is clean, tasty and free from harmful contaminants.