Description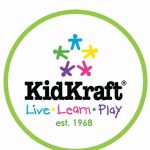 Kids can cook up a feast for the whole family. The young chefs in your life are sure to love this wooden kitchen's sweet colors and adorable details. Modular construction allows for unique kitchen layouts to suit any size play area. And with its durable wood construction, this kitchen will provide years of imaginative play.
The KidKraft Pink Retro Play Kitchen adds a new dimension of fun to play kitchens. The design allows for unique kitchen layouts to fit any size play area.
The Pink Retro Play Kitchen is positively packed with interactive features. Every appliance has a working door, perfect for storing play food, flatware and other accessories. Oven knobs click and turn with realistic molded-plastic stove burners. Young chefs love this wooden kitchen's sweet colors and adorable details like the see-through oven window.
Built from sturdy composite wood, this play kitchen is quality-crafted to last for years. The bright and durable finish is easy to clean, and the sink can also be removed for easy cleaning. As with every KidKraft product, safety is a top priority and all parts are thoroughly tested to be safe for kids, giving parents the peace of mind they deserve
Dimensions
Length: 32″ /  81.28 cm
Width: 12″ /  30.48 cm
Height: 27″ /  68.58 cm
Features
Real wood construction. Not Plywood!
Pre-built and ready to use. No assembly required.
Working Cooking timer.
Doors on dishwasher, oven, open and close. Working doors add to the interactive realism of this play kitchen.


Realistic stove burners. The stove's gas-style burners are made from molded plastic for durability and detailed design.

Working knobs on oven and sink. Knobs on the faucet really turn back and forth! Oven knobs also click and turn, adding fun sounds and tactile feedback.

Removable sink for easy cleanup

Storage space below oven

Smart, sturdy wood construction

Large enough that multiple children can play at once

Made of wooden products

Sturdy construction
About KidKraft
We aim to inspire imaginative play for children everywhere.
For over 50 years, KidKraft has been crafting toys and furniture to amplify and enrich childhood through spaces and places for kids to live, learn, play and explore. Our collection of dollhouses, play kitchens, trains, swing sets and indoor and outdoor furniture consistently win awards and accolades from industry experts. KidKraft products are sold in more than 90 countries, resulting in infinite smiles from children around the world. Thoughtfully designed to fit all families, homes and backyards, our items value classic imaginative play with nods toward technology to embrace a well-rounded, modern-day kid's needs and wishes. Aesthetically alluring, our products are often DIY'd by loyal followers to reflect their personal style and then widely showcased on social media via #kidkraftkids. We are design-inspired, consumer-led and kid-proven to be a top toy manufacturer in the industry now and for decades to follow.
Personalities: Playful, Timeless, Imaginative, Adventurous, Wow
Playful. Whimsical products are our focus. We reserve judgment on guiding playtime; instead championing families to explore what works for them.
Timeless. The desire to see our products passed down from kid to kid means we design to livable spaces, use quality components and place importance on safety testing.
Imaginative. Inventing creative extraordinary stories with our products is the ignition to "once upon a time." Kids add the chapters, and we eagerly await the sequels as make believe is never-ending.
Adventurous. Our collection promotes interaction and confidence to spur energized experiences. Any obstacle encountered is an opportunity to blaze a new trail.
Wow! Hopefully, the first and last reaction to our products. From seeing surprise on kids' faces to realizing the longevity of play, you'll know you made the right choice.